7TH INTERNATIONAL BROTHERS GRIMM AWARDTO BE PRESENTED TO DR. JACK ZIPES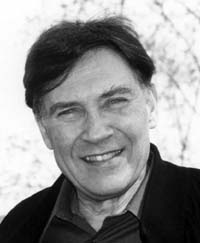 PROF. DR. JACK ZIPES

The International Brothers Grimm Award is presented by the International Institute for Children's Literature and the Kinran Foundation to an individual who has made exceptional achievements and contributions on an international scale to the research and promotion of children's literature. This award was established in 1987 to commemorate the 100th anniversary of the founding of Osaka Otemai High School by the alumnus of that school, the Kinran Foundation and is administrated as a joint project.

The first recipient was Dr. Klaus Doderer (Germany), the second Dr. Gote Klingberg (Sweden), the third Dr. James Fraser (U.S.A.), the fourth Mr. Torigoe Shin (Japan), the fifth Dr. Denise Escarpit (France), and the sixth Dr. Theodor Bruggemann(Germany).

Dr. Jack Zipes of the United States of America has been chosen as the 7th recipient of the Award The presentation of the award and the commemorative lecture of Dr. Zipes will be held on November 21, 1999 at the 38th Japan Children's Literature Research Society Convention.


Dr. Jack Zipes was born in the United States in 1937, and received his doctorate from Colombia University in 1965. His dissertation was titled "The Great Refusal: Studies of the Romantic Hero in German and American Literature". Having been a professor at Milwaukee State University in Wisconsin, and at Florida State University, he is presently at Minnesota State University where he is a professor in the Department of German.

His most important works include: "Political Plays for Children, 1976", "Breaking the Magic Spell: Radical Theories of Folk and Fairy Tales, 1979", "Fairy Tales and the Art of Subversion: The Classical Genre for Children and the Process of Civilization, 1983", "The Trials and Tribulations of Little Red Riding Hood: Version of the Tale in Socio-cultural Context, 1983", "The Brothers Grimm: From Enchanted Forests to the Modern World,1988", and "Fairy Tale as Myth, Myth as Fairy Tale, 1993".Dr. Zipes has evolved innovative theories to interpret the role of fairy tales, beginning with the fairy tales of the Brothers Grimm and Perrault, in the civilization of western society, and the education and socialization of children from the perspective of socio-cultural history.

His research on fairy tales has been greatly influencial in that area, but he has also given new direction to the fields of cultural research, media research, and gender research. His works appear not only in English, but have been translated into German, French, Swedish, Spanish, and Japanese. The magnitude, width, and depth of his influence can be seen in his activities which include lectures in many countries, and the degree to which his name is known worldwide. Dr. Zipes has also been the editor for many years of the critical journal of children's literature "THE LION AND UNICORN", and is active as a researcher of children's literature and as a story teller. Because of all of these activities he is highly regarded by the international community for the scale of his contributions to the development of research in children's literature.


THE REPRINTING OF "MAME NO KI"
- INFLUENTIAL POSTWAR LITERARY COTERIE MAGAZINE -

The Institute is involved in the reproduction of various texts.

The present reproduction is of the magazine 'MAME NO KI" of which seven volumes were published (from March through August 1950, 5 volumes, and from March to May, 1953, two volumes). The magazine was started to exchange ideas about children's literature between the four authors Inui Tomiko, Kanbe Junkichi, Sato Satoru, and Nagasaki Gennosuke with Hiratsuka Takeji. Among works which were published here were Inui's "By the Tree" which was the base for "The Little People of the House in the Shade of the Tree", and "The Dormant Volcano", Kanbe's "Squint-eyed Comrades", Sato's "The Child Without a Name Children" and Nagasaki's "Hikoji", and "The Wind Harp".

The first issue included messages of congratulations and encouragement from Ogawa Mimei, Hamada Hirosuke, and Yoda Junichi. Also included in the first issue of this reprint are book reviews of "Twenty-four Eyes" which had just been published at that time and the last issue includes the results of surveys and research on children's reading materials, making this a priceless collection of data for following the development of children's literature.

Osaka Shoseki has published this reproduction which is made up of eight volumes including a commentary.


MAJOUR EVENTS OF SEPTEMBER, 1998~AUGUST, 1999

At the Institute:
<For Adults>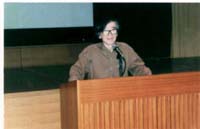 MR. TAKAHASHI SHIZUO

October 17, 1998
"Special Lecture: What Are the Moomin Tales?" Lecturer: Takahashi Shizuo (IICLO researcher) Co-sponsors: The Embassy of Finland, The Japan Finland Literature Society, JBBY, Japan Society for Children's Literature, The Society for Fostering IICLO

January 17, 1999
"The Social History of Australia as Seen Through Its Children's Comic Books" Lecturer: Dr. John Foster (Professor of South Australia IICLO Fellow) Interpreter:Ishikawa Haruko

March, 27, 1999
"Picture Books and Illustrations of Children's Books in Britain from the Viewpoint of Landscape" Lecturer: Tony Watkins (Reading University, U.K., IICLO Fellow) Interpreter: Ishikawa Haruko

August 22 23, 1999
"What is a Science Book? - The 5th National Convention of the Children's Science Books Society-" Co-sponsor: The Children's Science Books Society

<For Children>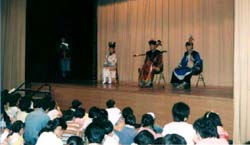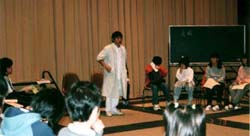 MR. HAYAMINE KAORU

October 11, 1998
"Word Play Event" Co-operator: Expo Cosmos Festa

October 18, 1998
"People and Horses Are Always Together: Stories and Music of Mongolia" Co-operator: Senri Bampaku Foundation

December 13, 1998
"Puppet Play Kagamimaru" performed by: Deaf Puppet Theatre Hitomi

March 13, 1999
"Let's Investigate Mystery Writer, Hayamine Kaoru"

May 3-5, 1999
The Yumeno Ike Theatre
1)"A Variety Show of Fun Comic Monologues for Parents and Children" performed by: Shofukutei Chikurin and others.
2)"Canadian Animation"
3)"Stories of the World" Shadow pictures: "The Adventures of Baron Munchausen" and others

Outside the Institute:
October 30, 1998

"The Zealous Age: Taisho Juvenile Fiction for Boys and Girls"Lecturer: Ueda Nobumichi(IICLO researcher) Cooperation by and held at: Izumisano City Library

December 13, 1998
"Exploring the Charm of Picture Books" Lecturer: Torigoe Shin (Professor of Seiwa University, IICLO director), Miyake Okiko (Professor of Baika Women's College), Nakagawa Masafumi (IICLO President) Cooperation by: The Society for Fostering IICLO Co-sponsor: Fukuoka Prefecture Board of Education, Fukuoka City Board of Education, Dazaifu City Board of Education, The Asahi Newspaper Company, Western Japan Newspaper Company, Mainichi Newspaper Company, Yomiuri Newspaper Company (Western Japan Main Office), RKB Manichi Broadcasting, KBC Kyushu Asahi Broadcasting, Western Japan TV Broadcasting, Fukuoka Prefecture Children's Theatre Liaison Society, Fukuoka Children's Culture Center, Little Flag. Held at: Dazaifu Tenmangu Yokoden Hall

March 6, 1999
"Re-interpreting/Rereading Yoshiya Nobuko's "The Flower Story"Lecturer: Komatsu Satoko (IICLO researcher) Cooperation of: The Osaka Prefecture Foundation for Creating Equal Rights. Held at: Dawn Centre

March 5, 1999
"The Novel of Vanished Girlhood Days, Yoshiya Nobuko's "The Flower Stories": Examining the Course of Novels for Young Girl Lecturer" Komatsu Satoko Cooperation by and held at: Kumatori City Library

October - December, 1998 / January - March, 1999
"Making MY PICTURE BOOK"Lecturer: Ochiai Naoya (editor of BL Publishing), Kawakita Noriko (lecturer of Kyoto Tachibana Women's College) Konishi Tsunemitsu (picture book artist),Nakagawa Masafumi, Nagata Keiko, Doi Yasuko. Held at: Asahi Culture Centre, Senri Branch


EXHIBITIONS AT THE INSTITUTE

October - December, 1998
"Treasures From Finland: Moomin and Jansson"

January - February, April - July, 1999
"An Introduction to IICLO and the Children's Books of the Meiji, Taisho, and Showa Periods"



March, 1999
"Exhibition of Original Illustrations of Winners of the IICLO Nissan Picture Book Grand Prize"

July - September, 1999
"Unique Popup Picture Books"


PERSONAL AFFAIRS

IICLO Director, Mr. Nakagawa, assumed the office of Chairman at the meeting of the Board of Directors on June 29th, when Board Chairman Mr. Suga Yasuo retired and Mr. Nakagawa (concurrently Director of this Institute) was chosen as his successor. Former Board Chairman, Mr. Suga, has been asked to continue to advise the Institute in the new role of Consultant.

Board Member Mr. Mukogawa, is slated to be named Manager. This post of Manager (part-time) has been open for many years, but it is expected that, in this period of difficult economic conditions in Osaka Prefecture, the combined efforts of the staff and Mr. Mukogawa (Professor at Hyogo University of Education) will lead to the further active development of the Institute. The official announcement was made on April 1, 1999.

Senior Researcher, Mr. Takahashi Shizuo, well-known as a major researcher of the works of Moomin tales author Tove Jansson, retired on March 31, 1999.


ACTIVITIES OF THE FELLOWS 1998~1999

These are activities of the fellows who came to the Institute to participate in "The Foreign Researchers Fellowship Program"



Section A: Foreign researchers of Japanese children's literature. Section B: Foreign researchers who are able to participate in research and contribute to international exchange. A: Period of stay. B: Position. C: Research theme. D: Research results/Publication titles E: Research activities, related activities.


KAO, MING-MEI, Taiwan, Section A
A:Sep. '98 - Aug. '99. B: Editor of Hsin Yi Publications
C:The Study of Original Picture Books of Post-war Japan.D: to be included in "Fellowship Program Researchers' Report 1998~1999" E:1. took part in storytelling sessions at IICLO's Children's Reading Room. 2. Gave lectures on Taiwanese Children's Literature at the Chinese Children's Literature Society and at the Society of Children's Books and Reading. 3. Appeared on welfare broadcast. 4. Lectured on Visiting Children's Libraries.

LIN, WEN-CHIEH, Taiwan, Section A
A:Sep. '98 - Aug. '99. C:The Study of Modern Japanese Children's Literature. D: to be included in "Fellowship Program Researchers' Report 1998~1999" E:1. took part in storytelling sessions at IICLO's Children's Reading Room. 2. Visits children's libraries, and elementary schools, reads paper picture stories.

TONY WATKINS, U.K. Section B
A:Mar. '99 - Apr. '99. B: Lecturer of University of Reading. C: Reprensentations of rural and urban landscapes in Japanese picture books D: to be included in "Fellowship Program Researchers' Report 1998~1999" E:1. Gave a lecture on " Picture Books and Illustrations of Children's Books in Britain from the Viewpoint of Landscape ". 1. took part in storytelling sessions at IICLO's Children's Reading Room.

JOHN FOSTER, Australia, Section B
A:Jan. '99 - Feb. '99. B: Professor of South Australia University. C:Study of Manga in Japan D: to be included in "Fellowship Program Researchers' Report 1998~1999" E:1. Gave a lecture on "The Social History of Australia as Seen Through Its Children's Comic Books".


| | | |
| --- | --- | --- |
| MS.KAO MING-MEI & MS.LIN WEN-CHIEH | MR. TONY WATKINS | PROF. JOHN FOSTER |

Guest Researchers from September 1999 - August 2000
Peng Yi (China)
Park Suk Kyoung (Korea)


PUBLICATIONS BY IICLO

"IICLO Bulletin vol.14"
-Contents-


| | |
| --- | --- |
| Explanatory Notes on the Magazine Shokokumin (6) | |
| | Torigoe Shin |
| A Study of Takizawa Sosui's Works for Children | |
| | Ueda Nobumichi |
| Hermynia Zur Muhlen, Proletarian Writer; Her Life and Work -Light and shadow in children's books in the 1920's, Part 1 | |
| | Ueno Yoko |
| Story Activities at the IICLO(6) -A Series of workshop on "Trees"- | |
| | Doi Yasuko |
| Children's Encounters with Books(3) -Investigating reading habits of children at IICLO- | |
| | Imamura Yoshie & Nagata Keiko |
| A Catalogue of Picture Books Published by Kanai-Shinsei-Do -The second period <part one> 1924 to 1928- | |
| | Ohashi Mayumi |
| Explanatory Notes on Specific Items in the Magazine, "Nihon no Shonen", by Hakubunkan, Tokyo.(1) | |
| | Nishizaki Yasuo, Takahashi Sizuo & Torigoe Shin |

"Fellowship Program Researchers' Report 1997~1999"


A LIST OF RESEARCH AND REVIEWS RELATED TO CHILDREN'S LITERATURE IN 1997 1998?$B!A?(B1999

Children's Literature: General
Hasegawa Ushio & Kido Noriko. NUCLEAR WEAPONS AND WAR AS SEEN FROM THE WORLD'S CHILDREN'S BOOKS. Nashinokisha. 263p. \2,800 4-8166-9702-0 With 'war' as the keyword this booklet takes up by theme such topics as the Japanese war experience the persecution of the Jews and wars after World War II.




Kawai Hayao. STORIES AND CHILDREN'S FEELINGS. Daisan Bumeisha. 277p. \1,800 4-476-03207-9 A Collection of author Kawai Hayao's conversations about children and stories with Bruno Bettlheim, Imae Yoshitomo, Cho Shinta, Tanikawa Shuntaro, Otried Preussler, and Petr Hartling.




Nakamura Osamu. COLLECTED CRITICISMS OF NORTH AND SOUTH KOREAN CHILDREN'S LITERATURE. Akashi Shoten. 676p. \8,240 4-7503-0885-4 A collection of critical studies on children's literature in Korea before and after the period of Japan's colonial rule the essays are by Korean authors of children's literature and critical writings on the children's culture movement and children's magazines.




Nihon Jido Bungaku Gakkai/ed. THE IDEOLOGICAL AND SOCIAL HISTORY OF CHILDREN'S LITERATURE. Tokyo Shoseki. 351p. \3,500 4-487-79252-5 A collection of studies of children's literature from the perspective of the history of thought and social history.




Sato Motoko. LOOKING BACK OVER 'MODERN CHILDREN'S LITERATURE'. Kyuzansha. 107p. \1,600 4-906563-74-0 A collection of reviews looking back on the history of postwar children's literature discussing epoch making works of Japanese children's literature.




Suematsu Himiko. AN INVITATION TO FRENCH CHILDREN'S LITERATURE. Nishimura Shoten. 279p. \2,800 4-89013-558-8 A history of children's literature from the age of Perrault to the present.




Children's Authors
Hirai Ryutaro/ed. THE RANPO BIBLIOGRAPHY DATABASE. Nabarishiri City Library. 290p. \3,000 A bibliographic listing by year from 1923-1995 of materials related to the study of mystery author, Edogawa Ranpo.




Konishi Masayasu. MY STUDIES OF MIYAZAWA KENJI. Sofusha. 351p. \2,060 4-915659-88-7 A collection of studies of Miyazawa Kenji, the author and his works, by the President of the children's literature publishing house, Iwasaki Shoten.




Konishi Msayasu. THE WRITERS AND WORKS I HAVE ENCOUNTERED. Sofusha. 476p. \2,800 4-915659-91-7 The author who was an editor at Iwasaki Shoten presents his thoughts on 21 authors including Awa Naoko, of children's literature of the postwar period and their works.




Matsuda Keiko. THE COMPLETE WORKS OF MATSUDA KEIKO. Ozorasha. 6vols.+1 \5,000 4-7568-0693 The complete works of Matsuda Keiko, author of novels for young girls; includes a separate volume of research data.




Mori Hana o Shinobu Sasayuri no Kai. MORI HANA: THE PERSON AND HER LITERATURE. Kobe Shinbun Sogo Shuppan Center. 235p. \1,500 4-87521-079-5 A collection of studies on children's literature writer Mori Hana, the author and her works.




Showa Joshi Daigaku Kindai Bunka Kenkyushitsu. RESEARCH MATERIALS FOR MODERN LITERATURE VOLUME 72. Showa Joshi Daigaku Kindai Bunka Kenkyusho. 321p. \5,000 4-7862-0072-7 A critical biography, chronological listing of work, and a bibliographical reference list of Doi Bansui, Kosugi Tengai, and Miyamori Asataro.




Tanimoto Seigo. MIYAZAWA KENJI AND FANTASY TALES. Hoksueido Shoten. 206p. \,1900 4-590-01038-0 A discussion of the fantasy tales of Miyazawa Kenji.




Terry Kamikawa. A DICTIONARY OF THE LIFESTYLE IN ANNE OF GREEN GABLES. Kodansha. 318p. \,2400 4-06-206969-5 Places, homes, and aspects of life such as food, clothing, schools, religion, plants and so on depicted in Anne of Green Gables are listed and explained in dictionary form.




Tsuboi Sakae. THE COLLECTED WORKS OF TSUBOI SAKAE. VOLUME 9. Bunsendo Shuppan. 576p. \9,524 4-8310-0055-8 The 9th volume (Children's Literature) of the 12 volume collected works of Tsuboi Sakae; 53 works of children's literature are introduced.




Children's Magazines
Ozaki Hokki. MEMORIES OF SHONEN CLUB DAYS. Kodansha. 382p. \4,000 4-06-207159-2 Focusing on the highly popular youth magazine Shonen Club which was published from 1914-1962, the main authors and works of children's literature of that time have been gathered with a record of symposia held by the editors of Shonen Club at that time.




Picture Books / Illustrations
Maruki Toshi. MARUKI TOSHI. Nihon Tosho Center. 249p. \1,854 4-8205-4258-3 An autobiography which includes the personal experience of the atomic bombing as told in the atomic bomb picture book 'Hiroshima No Pika'.




Miyake Okiko. A HISTORY OF THE ORIGIN OF PICTURE BOOKS FOR CHILDREN IN JAPAN. Mineruva Shobo. 351p. \3,605 4-623-02726-0 By looking at the monthly picture book magazine 'Child's Companion' which started publication in 1956 and continues today, focusing on the authors, works, and their reception, the history, and direction of Japanese picture books are examined.




Muranaka Rie. THE IMPORTANCE OF READING TOGETHER. Budosha. 135p. \1,545 4-89240-130-7 A collection of essays on the experiences of the author of reading picture books with the elderly as a form of reading therapy.




Nakamura Masako. PICTURE BOOKS ARE FRIENDS. Fukuinkan Shoten. 300p. \1,700 4-8340-1430-4 Through the discussion of the author's experience of picture books with children in kindergartens and nursery schools, a variety of picture books are critiqued.




Tsurutani Hisashi. THE AMERICA YUMEJI SAW. Shin Jinbutu Oraisha. 240p. \3,600 4-404-02496-7 An explanation of Takehisa Yumeji's life in America from the age of 48-50 using various attached materials.





Poems / Nursery Rhymes / Doyo
Hatanaka Keiichi. DOYO AS A LITERARY ART. Sekai Shisosha. 237p. \2,600 4-7907-0644-3 Kitahara Hakushu, Saijo Yaso, and others who are important writers in the history of doyo are discussed at the same time the efforts of doyo accompanists are summed up.




Kami Shoichiro/ed. THE COURSE OF JAPANESE DOYO. Ozorasha. 310p. \6,000 4-7568-0378-4 A commentary on the 38 volume set of Reprinted Japanese Doyo. A chronological bibliography is included.




Soeda Kunihiro. POET YOSHIDA ISSUI AND THE WORLD OF DOYO. Issuisha. 336p. \3,800 4-900482-14-5 Poet Yoshida Issui theories on his works.





Folktales / Fairytales
Miyashita Keizo. A CHRONOLOGY HISTORY OF MARCHEN. Keio Gijuku Daigaku Shuppankai. 271p. \2,200 4-7664-0662-1 This volume outlines the history of the story form called Marchen in German, and in the process examines the history of German Marchen to the present day.




Mizuno Hisashi. A TAPESTRY OF TALES READING PERRAULT. Sairyusha. 268p. \2,500 4-88202-443-8 A collection of articles analyzing the fairy tales of Perrault such as 'Little Red Ridinghood'.




Ozawa Tadashi. AN INTRODUCTION TO FOLKTALES. Gyosei. 321p. \2,400 4-324-05216-6 An introduction to fairytales and the study of folk tales dealing with Japanese folktales the Grimm fairy tales storytelling and so on.





Children's Reading
Masuda Shinichi. A STUDY OF THE HISTORY OF READING EDUCATION PRACTICES. Gakugei Tosho. 347p. \5,000 4-7616-0293-7 The history of practices in children's reading education from the Meiji period to the present day is outlined with concrete studies and practical examples given.




Nihon Kodomo no Hon Kenkyukai/ed. THE 30 YEARS OF THE JAPANESE CHILDREN'S BOOKS SOCIETY. Nihon Kodomo no Hon Kenkyukai. 119p. \0 In this booklet published to commemorate the 30 years of the Children's Book Research Society since its start in 1967 the members look back on the group's activities such as conventions lectures and study meetings.





Children's Library
Yamahana Ikuko. BOOKTALKS THAT LOOK AT ISSUES OF LIVING. Kado Sobo. 255p. \1,800 4-87598-209-7 A record of the book talks of the author who is both a librarian and a writer.




Akagi Kanko. KANKO'S INTRODUCTION TO MINIMINI YOUNG ADULTS PART I Ribrio Shuppan. 203p. \1,796 4-89784-559-9 A booklist of works for young adults chosen for the library members.




Katsura Yuko. THE SEEKING THE IDEA CHILDREN'S LIBRARY. Chuo Koronsha. 192p. \660 4-12-101385-9 The author pursues the image of the ideal library in Japan based on her experiences in Canada as a librarian and her impressions of her visit.




Muku Hatoju. BRINGING THE ENJOYMENT OF READING AND WRITING TO ALL VILLAGES. Rironsha. 286p. \2,000 4-652-07156-6 Muku Hatoju, author, library staff member, and literacy activist, has made a collection of essays and criticisms on libraries and reading.




Nihon Toshokan Gakkai Kenkyu Iinkai. THE STARTING POINT AND FUTURE OF CHILDREN'S YOUNG ADULTS' SERVICES. Nichigai Associates. 205p. \2,800 4-8169-1450-1 A collection of papers on library services for young adults in the United States England Canada and Japan.





Manga
Hirayama Takashi/ed. THE WORLD OF FUJIKO F. FUJIO; COLLECTOR'S EDITION. Shogakukan. 258p. \1,165 4-09-102569-2 A chronology list of works and conversations of Fujiko F. Fujio, well-known for the children's manga 'Doraemon' are presented visually.




Ishinomori Shotaro. THE ISHINOMORI MANGA LIBRARY. Media Factory. 255p. \2,000 4-88991-429-3 The life and works of one of Japan's representative comic artists of manga for juveniles is presented visually. A list of books in print is also included.




Natsume Fusanosuke. WHY ARE MANGA INTERESTING? Nihon Hoso Shuppan Kyokai. 279p. \880 4-14-084066-8 The unique features of expression in manga such as the use of frames and lettering and their effects are shown one by one with examples.




Natsume Fusanosuke. MANGA AND WAR. Kodansha. 179p. \640 4-06-149384-1 Concrete examples of how 'war' is depicted in Japanese manga/comics is the subject of this inquiry.




Nimiya Kazuko. ADULT CHILDREN AND YOUNG GIRLS' MANGA. Kosaido Shuppan. 222p. \1,600 4-331-50588-X Looking at examples from various works the extent to which manga for young girls have related to the conditions of today's/modern Japanese young girls and women, or have given young girls comfort is discussed.




Omori Chiaki. HOW TO LOOK AT THE STUDY OF COMICS. Asahi Shinbunsha. 176p. \1,050 4-02-274075-2 Researchers in various fields and areas makes suggestions on how to study manga.




Shimizu Tadashi. INTERPRETING TSUGE YOSHIHARU. Gendai Shokan. 324p. \2,800 4-7684-7695-3 A collection of analyses of manga author Tsuge Yoshiharu's works.




Takeuchi Osamu. CRITICISMS AND RESEARCH ON MANGA PLUS MATERIALS. 196p. \0 A collection of studies discussing the state of manga criticism. A bibliography of studies of manga criticism is included.




Tezuka Osamu. MY LIFE WITH MANGA. Iwanai Shoten. 223p. \660 4-00-430509-8 A record taken from lectures of Tezuka Osamu talking about his life as a manga author.




Yokoyama Ryuichi. YOKOYAMA RYUICHI. Nihon Tosho Center. 226p. \1,854 4-8205-4256-7 The autobiography of Yokoyama Ryuichi author of newspaper serial manga Fuku-chan.





Children's Culture
Furuta Taruhi. CHILDREN AND CULTURE. Kyuzansha. 110p. \1,600 4-906563-76-7 A critical look at the narrow scope of research in children'sculture up to the present time, the work seeks to indicate the direction and emphasis of future research on children's culture through considering the relationship of children and culture.




Kamichi Chizuko. THE HISTORY OF PAPER PICTURE STORIES. Kyuzansha. 115p. \1,600 4-906563-75-9 Kamishibai picture stories have their origins in the Heian period, and here their further development and realization in the pre-war years and the direction of their popularization during the post-war years are outlined.




Mainichi Shinbunsha Gakusei Shinbun Honbu. A RECORD OF CHILDREN'S LIVES IN THE MAINICHI DAILY NEWS FOR ELEMENTARY SCHOOL STUDENTS. NTT Media Scope. 447p. \4,500 4-87221-059-X A followup of the changes in children's culture looking at materials published over a sixty year period in the Mainichi Elementary School Students' Newspaper in categories such as manga, education, play. social activities, children's fiction, the environment, readers' contributions, letters, and so on.




Shibaguchi Yasuko. ANIMATION COLORISTS. Tokuma Shoten. 253p. \1,600 4-19-860726-5 The making of animation is discussed from the viewpoint of Yasuda Michio who has been the color director for the animated features of Miyazaki Hayao and Takahata Isao.




Takeuchi Osamu. CHILDREN'S CULTURE AND THE STUDY OF CHILDREN. Kyuzansha. 99p. \1,553 4-906563-77-5 Manga researcher Takeuchi discusses the definition of children's culture categories of modern children's literature books about children going out (odekake-ehon) and methods of performing educational paper picture shows.





Translation
Gag Wabda. GROWING PAINS. Kogumasha. 533p. \5,000 4-7721-9029-5




Hancher Michael. THE TENNIEL ILLUSTRATIONS TO THE ALICE BOOKS. Tokyo Shoseki. 287p. \2,800 4-489-00510-5




Le Guin Ursula K. DANCING AT THE EDGE OF THE WORLD. Hakusuisha. 390p. \3,296 4-560-04618-2




Rees David. THE MARBLE IN THE WATER. Kaiseisha. 315p. \2,800 4-03-013040-2



Schiff Stacy. SAINT-EXUPERY Sinchosha. 505p. \3,400 4-10-535001-3




Wullschla:ger Jackie. INVENTING WONDERLAND. Kawade Shobo Shinsha. 323p. \2,884 4-309-20279-9





IN APPRECIATION OF BOOK DONATIONS

Since April 1998 we have continued to receive donations from many people and organizations. We would like to express our heartfelt thanks and also to request your continuing support.

JOHN FOSTER (AUSTRALIA)
LIU XUYAN (CHINA)
ZHANG XI CHANG (CHINA)


(CHINA)


(CHINA)


(CHINA)


(CHINA)
THE DANISH INFORMATION CENTER (DENMARK)
SUOMEN NUORISOKIRJALLISUUDEN
INSTITUUTTI (FINLAND)
BRIGITTE DANCEL (FRANCE)
INSTITUT FUR JUGENDBUCHFORSCHUNG(GERMANY)
KINDER-UND JUGENDTHEATERZENTRUM IN DER BUNDESREPUBLIK DEUTSCHLAND (GERMANY)
ASSOCIATION OF WRITERS & ILLUSTRATORS FOR CHILDREN (INDIA)
INDIAN SECTION OF IBBY (INDIA)
MURTI BUNANTA SS.MA (INDONESIA)
BORI PUBLISHING (KOREA)
THE SOCIETY OF KOREAN CHILDREN'S LITERATURE (KOREA)


(KOREA)


(KOREA)
TOIN DUIJXFACULTY OF SOCIAL AND
BEHAVIOURAL SCIENCES (NETHERLANDS)
YUSON CRISTINA (PHILIPPINES)
FUNDACJA KSIAZKA DLA DZIECKA (POLAND)
SLOVENIAN SECTION OF IBBY (SLOVENIA)
SVENSKA BARNBOKSINSTITUTET (SWEDEN)
SCHWEIZERISCHES JUGENDBUCH-INSTITUT
JOHANNA SPYRI-STIFTUNG (SWITZERLAND)
YANGBUH-RUING

(TAIWAN)


(TAIWAN)


(TAIWAN)


(TAIWAN)


(TAIWAN)
PORN-ANONG NIYOMKA HORIKAWA (THAILAND)
TONY WATKINS (U.K.)
THE FIVE OWLS (U.S.A)
ZMAJ CHILDREN GAMES, NTERNATIONAL CENTRE FOR CHILDREN LITERATURE (YUGOSLAVIA)


GENERAL INFORMATION

*Institute Hours: 9:30am-5:00pm
*Closed: Wednesday
End of month
New Year Holiday Season(Dec.28th-Jan.4th)
[Also closed for a few weeks in February each year for the airing of books and general inventory]




Editor: Ueno Yoko/Doi Yasuko

Translation: Rebecca Teele

The International Institute for Children's Literature, Osaka 1999


*All Japanese names in the News appear the traditional order, surname followed by given name.




| | |
| --- | --- |
| "KSGAMIMARU" BY DEAF PUPPET THEATER, HITOMI | AT CHILDREN'S READING ROOM |